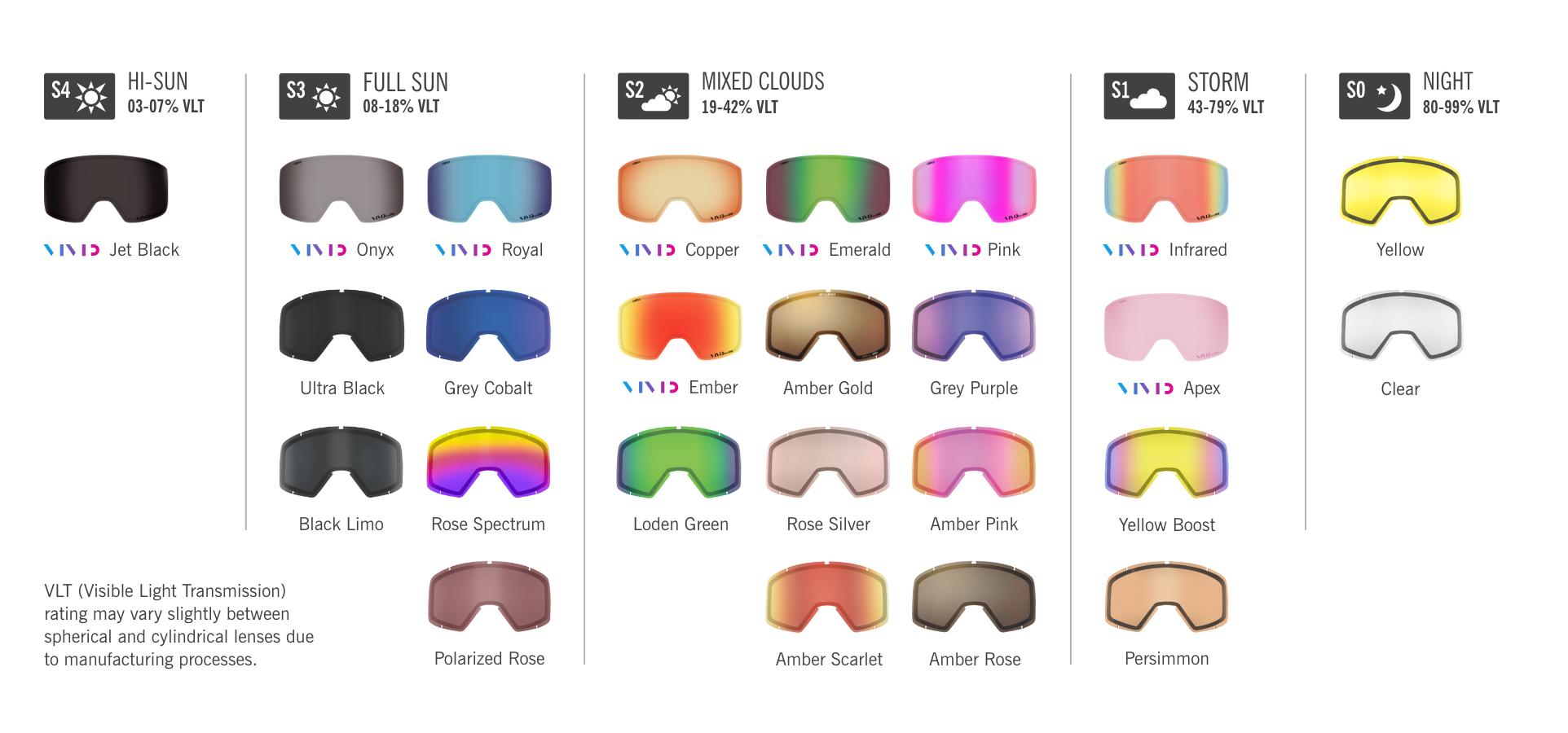 Enhance contrast and boost confidence with VIVID lenses. A new technology from Giro with the help of Zeiss Optics, VIVID manipulates blue light to increase contrast and help colors pop with enhanced definition. It helps you spot that next line even better by reducing eyestrain and improving reaction times by enhancing natural blue light while blocking harmful UV rays. Ride hard, stay confident, and keep focused with new Giro VIVID lenses.
Stormy / Low Light Conditions:
Vivid Apex - Best in stormy snowy low light conditions. 75% VLT
Vivid Infrared - This lens is unbeatable in the most challenging conditions – when sky and snow become one and visibility is minimal. The spectral curve is tuned to allow a high portion of long wavelength red light while reducing infrared rays. 58% VLT
Mixed Sun and Cloud Conditions:
Vivid Ember - This versatile lens features a red mirror that improves contrast and definition while reducing infrared rays. From cloudy to sunny days, this Ember lens will help you read snow irregularities and reduce eye fatigue. 35% VLT
Vivid Pink - This all-day pink mirror allows a high portion of long wavelength red light with a reduction in infrared rays. The result improves contrast and definition from cloudy to sunny days. 32% VLT
Vivid Emerald - This stylish lens features a green mirror and allows a high portion of long wavelength red light to improve contrast from cloudy to sunny days. 22% VLT
Vivid Copper - This copper lens features a bronze mirror coating and allows an equal distribution of colored light, creating true color perception while improving contrast, definition and reduced eye fatigue. 18% VLT
Sunny / High Alpine Conditions:
Vivid Royal - This versatile sun lens features a blue mirror treatment and allows a high portion of long wavelength red light (while simultaneously limiting color peaks) for improved contrast in sunny conditions. 16% VLT
Vivid Onyx - This lens features a silver mirror treatment that enhances contrast while limiting color peaks, providing less eye fatigue and improved reaction time in bright sun. 14% VLT
Jet Black - Best of all Vivid lenses for glacier bright sunny days. 9% VLT
Ultra Black - A darker version of the Black Limo used for high alpine skiing and riding in extremely bright conditions. 9% VLT
Night
Clear - A very high quality clear lens for use at night or in extreme low light conditions. 90% VLT
Yellow - Used for low light to moderately cloudy conditions. 75% VLT
Non-Vivid Lenses
Amber Rose - A perfect all conditions tint. If you had to choose one for every condition, this would be it. 40% VLT
Amber Scarlet - A high-performance amber base tint with multi-layer flash coating that heightens detail and depth perception in variable light conditions. 40% VLT
Amber Pink - An amber base tint is pumped up with a light refining flash coating that glows bright pink. The result is a perfect all day tint. 37% VLT
Grey Cobalt - Same base tint as the Grey Purple tint but with a cobalt blue flash mirror coating. 10% VLT
Loden Green - Our green on green combo is an amazing full sun tint. A bright green flash coating keeps your vision crisp and your style on lock. 26% VL
* VLT (Visible Light Transmission) The percentage of available light allowed to reach the eye.