Looking for the best lens for your next bike ride, run, or downhill adventure? Looking for a one lens does all solution? Look no further that the Clarion Red Fototec lens. Tifosi Optics has introduced their newly designed Clarion Red Fototec lens that is available with the Sledge, Sledge Lite and Tsali sunglasses, and as a replacement lens direct from PROLENS.com. This is a transitions or photochromic lens that combines light changing technology with Clarion hydrophobic properties. We have found that not only does the Clarion finish repel moisture, but when used on the dusty trails while mountain biking it helped keep the lenses free of dust. So go ahead and work up a sweat on your next ride and see better.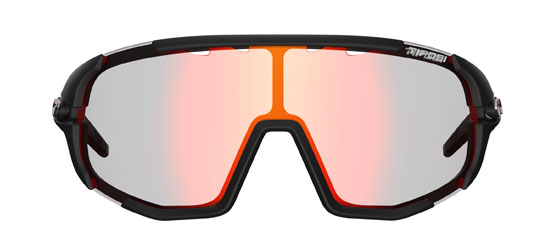 With a VLT (Visual Light Transmission, or what percentage of the available light can reach your eyes) of 14% to 64%, when the sun breaks through you are covered with not only the 14% rating but eased as well by the reflective Clarion red finish. When you find yourself in the trees with minimal light, the Clarion Red Fototec lens lightens up to an almost clear lens rated at 64%. The grey base tint helps maintain colors as you naturally see them while providing good protection in brighter conditions.
We expect this lens to become available in more models but for now it can be found in the Matte Black TR-90 nylon frames of the Sledge, Sledge Lite and Tsali model of sunglasses, all with hydrophilic rubber nose and earpieces that prevent slipping when wet.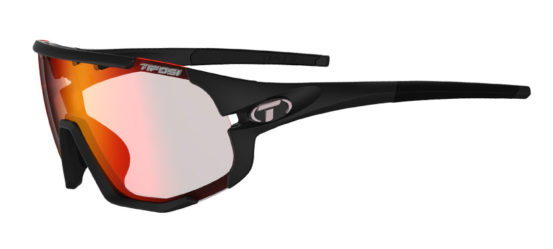 In recent months we have had to say goodbye to the High Speed Red Fototec lens due to Covid shutdowns in manufacturing but have no problem embracing this new lens. The Clarion Red Fototec lens has become a shop favorite of all the riders at PROLENS.com